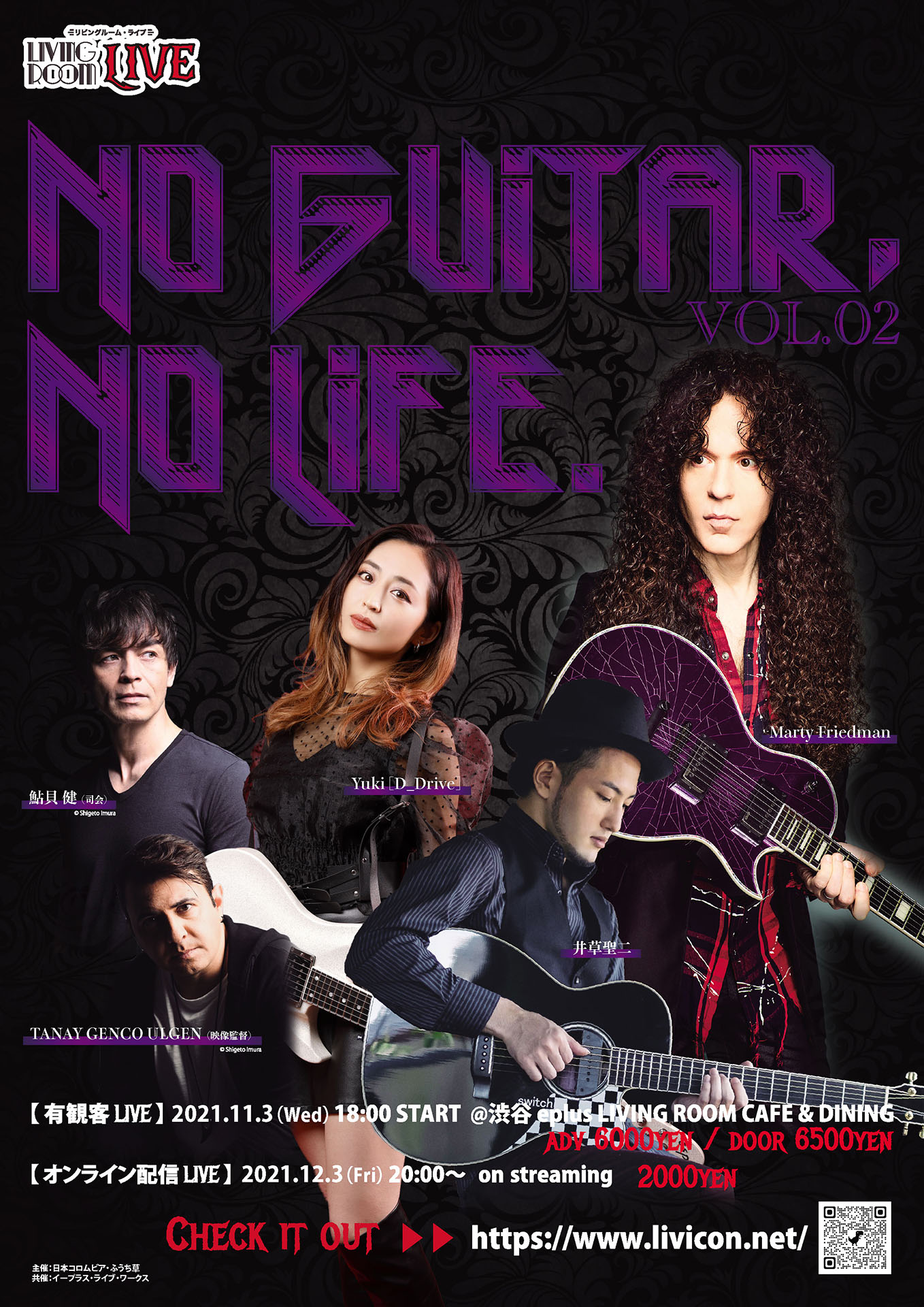 リビングルーム・ライブ「 No Guitar, No Life 」vol.02
[出演]
Marty Friedman/Yuki(D_Drive)/井草聖二 /鮎貝 健《司会》

[イベントWEBサイト]
https://www.livicon.net/guitar-02
[有観客LIVE]
開催日時:2021/11/3(水・祝) open 17:00 / start 18:00
場所:eplus LIVING ROOM CAFE & DINING
Ticket:全席指定 前売 6,000円(税込、1ドリンク別途)
Ticket発売開始:2021/10/1(金) 12:00〜
[オンライン配信LIVE]
配信期間:2021/12/3(金) 20:00〜
(配信期間中いつでも何度でも視聴可能)
視聴Ticket:2,000円(税込)
Ticket発売開始:2021/10/1(金) 12:00〜

---

リビングルーム・ライブ「 No Guitar, No Life 」vol.02 開催決定 !!
あらゆるジャンルのギタリストが集結!
司会の鮎貝健と巨匠のマーティ・フリードマンが日本の様々のジャンルのギタリストをご紹介します。
メディアにも多く取り上げられている日本ロック界のデイーバ、D_Drive Yuki。世界的なコンクールで受賞、YouTubeやSNSで人気沸騰中の井草聖二。
それぞれの魅力とコラボレーションをお楽しみください。
配信は、こだわりの音と映像でお届け。
サウンドは、日本コロムビアの敏腕エンジニアが担当。
映像は、TANAY GENCO ULGEN(カナダ出身映画監督)が監督します。
新しいスタイルのライブを「会場で」または「ご自宅で」お楽しみください。
---
Marty Friedman introduces and collaborates with the latest up and coming spectacular Japanese guitarists in this unique live performance series, "No Guitar, No Life".
Joining Marty are the freshest new faces on the Japanese guitar scene, this time bringing together the super electric guitar rock diva D_Drive Yuki, and world class fingerstyle phenomenon Seiji Igusa.
Each of the three diverse artists will perform individually as well as together, showcasing the charm of their own styles, as well as create a once in a lifetime collaboration.
Media personality and longtime Rock Fujiyama host Ken Ayugai will interview Marty, Yuki and Seiji throughout the show, exploring and exposing the magic of the guitar and the vastly different things it means to each of them.
Directed by award-winning Canadian filmmaker Tanay Genco Ulgen and engineered by Nippon Columbia, prepare yourself to marvel at an innovative presentation of live music at home!
ふうち草 前原弘隆
CELL:080-3403-5375
MAIL:maehara@fuchisou.com